January 16, 2020
Barstow Fire Protection District in California will be receiving a brand new Super Squad this month! They are using the unit as a quick-response paramedic unit. See the details of the unit and the Super Squad in general in this video below: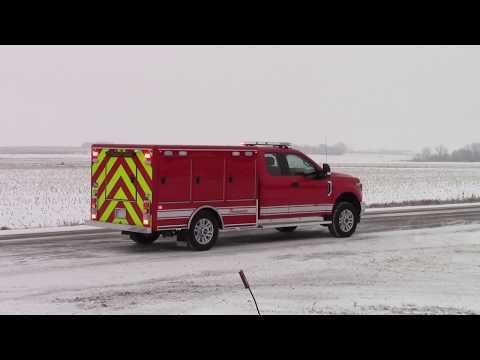 Play Video
In addition, the Moraga-Orinda Fire District in California took delivery in late 2019 of two emergency vehicles, including the New SPITFIRE Quick Attack design from Maintainer.   It has a 9' body and in the center deck is mounted a C.E.T skid unit with 20 HP gas pump, 300-gallon water tank, and a Trident "Foamate" foam system with 10-gallon tank. It is all mounted on a 2018 Ram 5500 4x4 Crew Cab chassis with 6.7 Cummins Turbo Diesel engine. The Spitfire combines the look and feel of a Maintainer service body along with MCB's Quick Attack style. The department should get long use from thus durable vehicle.
The second apparatus is a Walk-Around Air Unit. It sports a 12' all-aluminum body and subframe. The body is mounted on 1 2018 Ram 5500, 2-door chassis with V8 hemi engine. The body features an Eagle Air Breathing Air Compressor System with electric slide-out trays. It also has an RSP Cascade 2-bottle fill station, Cascade Fill Panel, and storage rack for 20 SCBA cylinders in the rear. There is also a Cascade Bottle storage rack with 6 DOT 6000 psi Cascade Bottle in a recessed roof compartment. Plus, it has retractable awnings to protect the responders. Neat custom set-up!
Learn more about these trucks at our Recent Deliveries page.
This VIDEO gives brief highlights of each truck: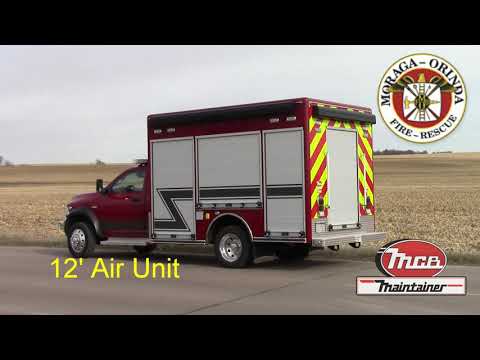 Play Video